The Most Interesting Man In The World
I was 18 and researching which university I should attend when I stumbled across that most trusted source of information for male adolescents at the time… Playboy Magazine.
It's true. If I ever run for public office, you can leak this to the press.
While some of my more intelligent classmates knew exactly where they were headed in life, I, frankly, didn't have clue.
As one of America's most inspirational philosophers, Yogi Berra once said, "When you come to a fork in the road, take it."
And so I did. As I cast about for ideas, Playboy published an  article ranking the top 10 party schools in America. Arizona State was #1. But San Jose State, a mere hour's drive from my home, was #2.
Bingo.
The school lived up to its name and, may the gods forgive me, I did what I could to push it to #1. I have grandchildren now so the details will have to await my autobiography, if I ever write one, but there is one vignette that may be of interest.
On Spring break of my junior year, four fraternity brothers and I piled into a dilapidated '55 Cadillac with a fractured grill and one blinking headlight, and headed south of the border. Everyone was either a board surfer or body surfer.
We crossed into Northern Mexico at Mexicali. From there we headed to the West Coast and then due South. When we got to Mazatlan, which was not the tourist destination it is today, we staked out a plot of ground in a park 50 yards from the beach.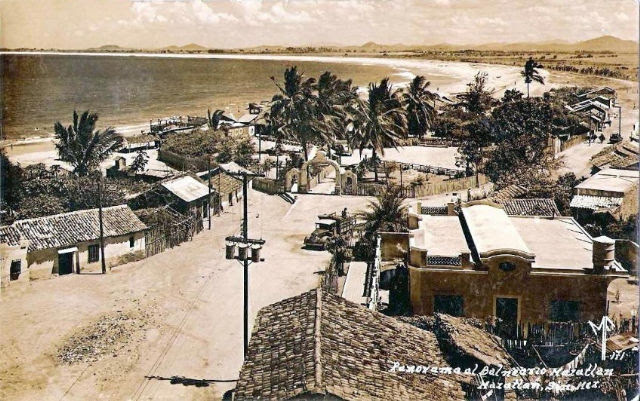 http://www.galeriamazatlan.com/galerias/playas/pics/BALNEARIO%20PLAYA%20NORTE.jpg
A Mexican kid would come by in the morning, sell us some fresh oranges and then shinny up a coconut tree and knock down some coconuts. We would machete the tops off of the coconuts and enjoy the meat and milk and the oranges for breakfast.
There was a palm frond covered cantina right on the beach in front of us. We would surf all day, break in the afternoon for fuel at the cantina – tacos and beer – and head into town after the sun melted into the Pacific. The beer drinking carried over into the night.
The nightlife in Mazatlan in those days was like something out of a Sergio Leone movie. Let's call it…rustic.
It was in these seedy saloons, where I was introduced to a slender, dark companion – the dusky colored Mexican beer named Dos Equis. I liked the pungent flavor and even then, perhaps as a harbinger of things to come, I liked the brand itself.
We later traveled South to San Blas, lived on the beach next to an Indian village, spent a night in a hotel full of bats and scorpions and eventually headed back to San Jose; sandal wearing, brown bodied surfers. It was a cool look in those days.
The hedonistic days faded when I began taking school more seriously and eventually taught at San Jose State. Beer and study for graduate school exams did not mix. While I saw the Dos Equis brand occasionally over the following years, I hadn't really paid it any attention for decades.
So it has been a real delight and a trip down memory lane to come across the brand from a professional point of view and marvel at one of the most creative ad campaigns I have ever seen. Look what happens when creativity is brought to bear on  in depth market research.
Dos Equis, is now the top selling imported dark beer in the United States. But it hasn't always been that way, not by a long shot. How did this happen?
It started with market research – a lot of it. According to the ad agency (Euro RSCG), the research revealed "…that the greatest fear of young, male bar goers is to be thought of as boring." 
The agency's account director, Mary Perhach, noted, "We had a tremendous amount of research that showed us….Drinkers wanted to be seen by their friends, and by ladies as interesting."
So what did EURO and Heineken (the owners of the brand) do with this research?
Take a look.
There is a 30 second commercial here. And if you want to enjoy some advertising genius, click the others right below it. http://adage.com/lp/top15/#mostinteresting.
In fact, there are dozens of these spots all over the Net.
This is advertising brilliance built from the foundation of deep market research that found a single "Button" among beer drinkers – they did not want to be seen as boring.
The result? Dos Equis soared from being a second tier beverage player, to the #1 imported dark beer in America.
I say, long live the Most Interesting Man in the World….Because when it was his time to go, he told God he'd take a rain check.
Oh, and if you want to become the most interesting brand in the world, give us a call. We have the research team and creative associates that can propel your brand to the top of its category.
As one of our clients said:
"We live, as you know better than most, in a world where information is the rising currency of real value. Your information, provided by solid, yet unique and innovative research technologies, thus becomes great wealth. 
JB – President.
Best,
Bruce